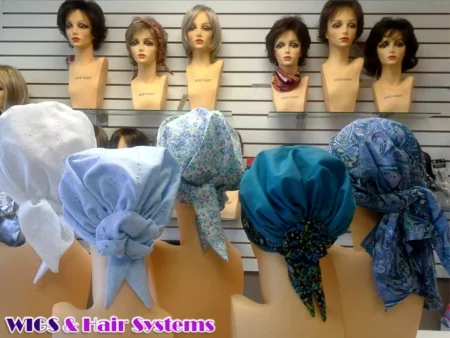 When you think about a hair replacement system, images of old-fashioned ill-fitting wigs may come to mind. This wig isn't one you want to wear on your head today, and fortunately, technology has helped these systems come a long way. People won't even know that you don't have your natural hair anymore.
You may be wondering how this is possible. As you let this realization become a reality in your mind, you'll probably want to take some time to decide what hair system is best for you. After all, you not only have synthetic wigs to choose from today, but human hair wigs are also an authentic option.
Reading about all of these options may leave you feeling somewhat confused, but you don't have to be. All it takes is a few moments to understand these two types of hair systems better.
What You Need to Know to Tell the Difference Between Synthetic and Human Hair Wigs
Choosing the right hair system for you starts with understanding the difference between synthetic wigs and those manufactured from human hair. Once you have this knowledge, you can make other decisions regarding the wig you want to wear. Doing so will also make you feel more comfortable wearing one, so let's get started.
A Look at Human Hair Wigs
With human hair wigs, you'll have a hair system that is derived from actual human hair. You'll be able to choose from hair from a person of Indonesian, Chinese, Indian, or European descent. While these wigs are typically more expensive than synthetic wigs, the quality far surpasses that of wigs manufactured from synthetic hair.
A Look at Synthetic Wigs
Initially, when you'd think of synthetic wigs, you'd probably think of costume wigs. Thanks to technology, these wigs have come a long way since then.
Today, synthetic hair is manufactured from either acrylic or plastic fibers that have been heated to create the hairstyle you desire (something that was impossible to do in the past). These changes mean that most people can't even tell the difference between synthetic and human hair wigs anymore. The only way anyone can tell the difference is by placing these two types of wigs next to each other.
You also can't tell the difference between these two types of wigs by merely looking at the price tag. When you choose high-quality synthetic hair, it's just as costly as human hair.
It's important to note that you can tell the difference between high and low-quality synthetic hair, though. This difference is most notable when you have the two next to one another. There's a little trick you can use here: As you look at wigs made from natural hair, you'll see that there are still cuticles intact. They'll feel like little bumps when you run your fingers through each strand. However, synthetic wigs won't have these bumps. They'll feel super smooth instead.
Choose the Right Wig for Your Needs
Determining whether you want a synthetic wig or a human hair wig depends on factors like your budget, the type of hairstyle you want, and the quality you expect to receive. Making these critical decisions can be challenging if you don't know much about hair. This reason is why we're here for you at Wigs and Hair Systems Studio in Tampa Bay, FL.
We pride ourselves on offering you a large variety of high-quality wigs from which you can choose. Our clients haven't only appreciated our selection, but they also appreciate how we treat them like family. Give us a call to schedule an in-person consultation and receive the service you deserve today.